How System Soft Solved Client Business Challenges Through Application Development and Management Solutions
The holiday season is upon us. It's hard to believe we're near the end of another year. From virtual work settings and supply shortages to security and integration concerns, 2021 delivered its own set of challenges in application development solutions.
Overall, it was a year full of lessons and growth opportunities. System Soft Technologies has shared and learned a lot along the way.
As we look forward to 2022, helping many more organizations solve their business solutions needs and providing exceptional application management solutions services to our amazing customers, we're reflecting on a few of our most insightful and impactful pieces of content.
Here's a look back at some of the stories, stats, blogs and insights we covered during 2021.
Traditional Code vs. Low Code vs. No Code
Low-code and no-code development platforms have gained a lot of popularity over the years. We've received many questions about the various platforms. So, as subject matter experts, we shared insights, including the basics and benefits, comparisons between each, misconceptions, and how it's changing the future of application development.
These software development platforms are an alternative application development solution because they are customizable, secure and cost-effective. The use of low-code and no-code platforms deliver application development solutions, which are mobile, adjustable, adaptable and scalable.
Low-code platforms speed up the cycle of coding. No-code platforms, like CitizenDeveloper, allow for sophisticated applications to be built without coding, using drag-and-drop and plain English elements.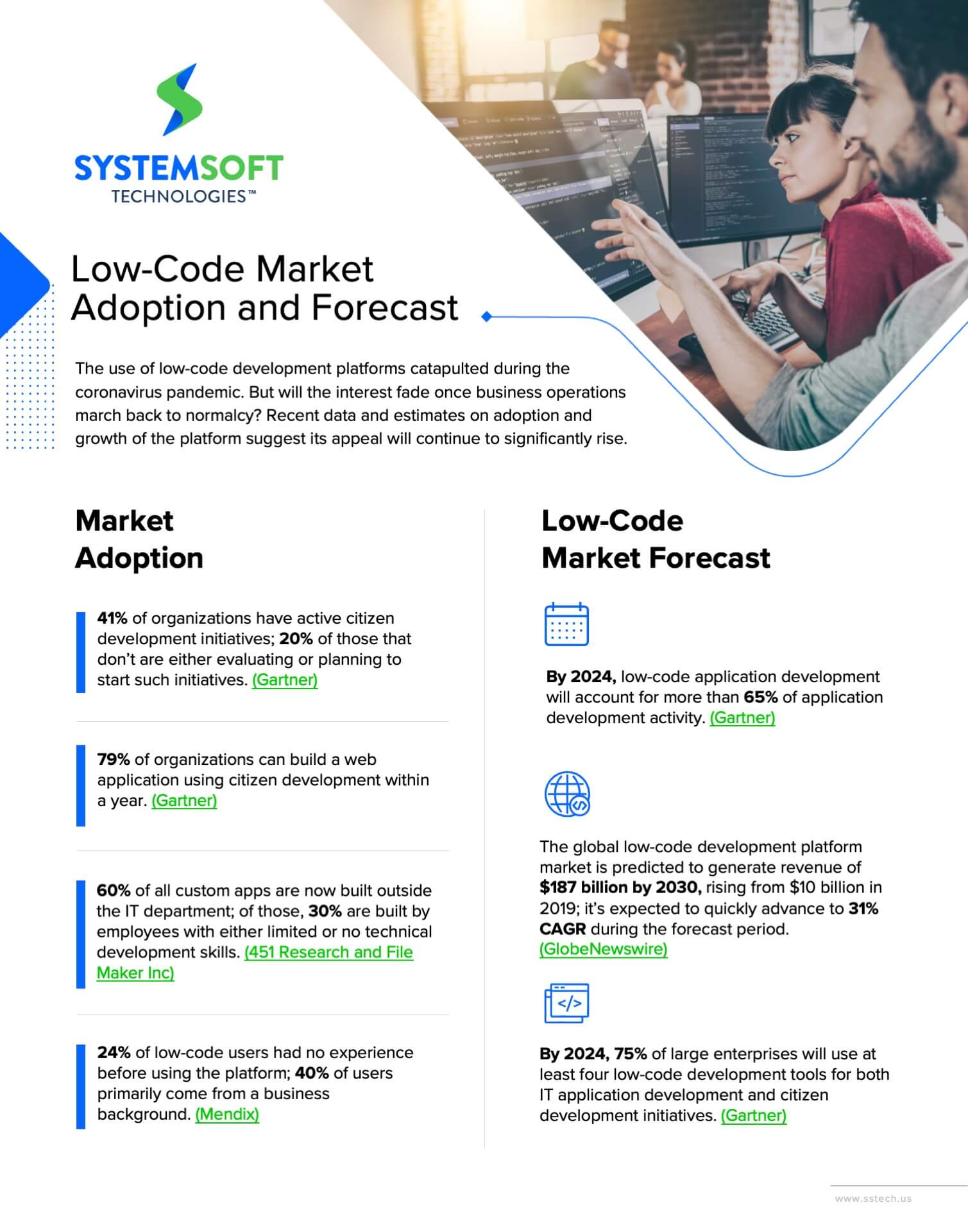 The demand for no code has significantly risen amid the coronavirus pandemic. That's because speed and agility became critical for both small and large organizations.
According to Forrester Research, the no-code movement will be worth $21.2 billion by 2022, catapulting from $3.8 billion in 2017. No surprise there. Competitive dynamics have generated considerable pressure on organizations to find innovative methods to develop applications, rather than rely on traditional ones to stay in the game.
Learn more by clicking here to view the Traditional Code vs. Low Code vs. No Code Comparison Chart.
System Soft, CitizenDeveloper Helped Local CDFI Become Community Hero During Coronavirus Pandemic
The rapid pace and impact of the pandemic left local citizens with limited ways to support their businesses and keep the lights on.
While many Community Development Financial Institutions (CDFIs) were focused on helping medium-sized and large businesses, Houston Business Development Inc. (HBDI) took on the challenge of delivering funds to local businesses, which needed them most.
This was a huge undertaking to create customized, compliant and secure grant portals for local communities on short notice. And HBDI had no IT experience and a limited staff, while navigating the changing rules for funds distribution.
The agility of System Soft and the CitizenDeveloper software development platform allowed quick alignment for the diverse requirements of data needs and reporting to outside auditors, political factions, grant applicants and internal processors.
The grant money was then funneled through complex distribution guidelines to the businesses that most needed it. You can read the entire story here.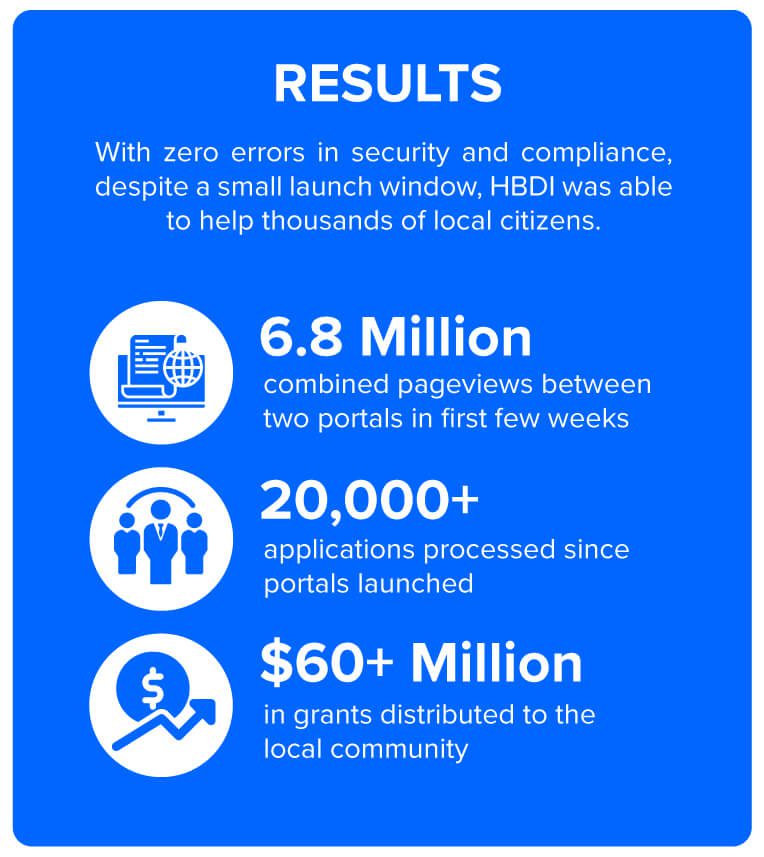 During 2021, did you miss some of our followers' and clients' favorite blogs, videos and webinars about low code and no code? If so, we suggest you check these out:
Integration with iPaaS
Speaking of high-agility platforms, we're incredibly excited about our continued delivery through integration platform-as-a-service (iPaaS) partners like MuleSoft and Dell Boomi.
IPaaS platforms allow for centralized data to be pushed and pulled to various separate systems, while that integration is centrally supported and easily kept updated and secure.
It's common for organizations to have their data, business applications, systems and devices living in multiple locations in a variety of clouds and on-premises. These multi-location, heterogenous applications efficiently exchange information with each other through multi-digital channels. And it's done effortlessly using many different formats through faster-to-market production setups.
IPaaS quickly simplifies integrations. And it acts as middleware between your business systems, applications and data. By leveraging iPaaS tools, the location of your applications is no longer an issue. iPaaS can accommodate SaaS, cloud, on-premises, multi-cloud protocols, any database and applications.
Consider omnichannel customer experience management (CEM) in the retail industry. It's valuable for a retailer to understand consumer behavior and preferences through application development solutions and application management, producing a unified, 360-degree customer view and generating insights for consistent, personalized engagement across any channel.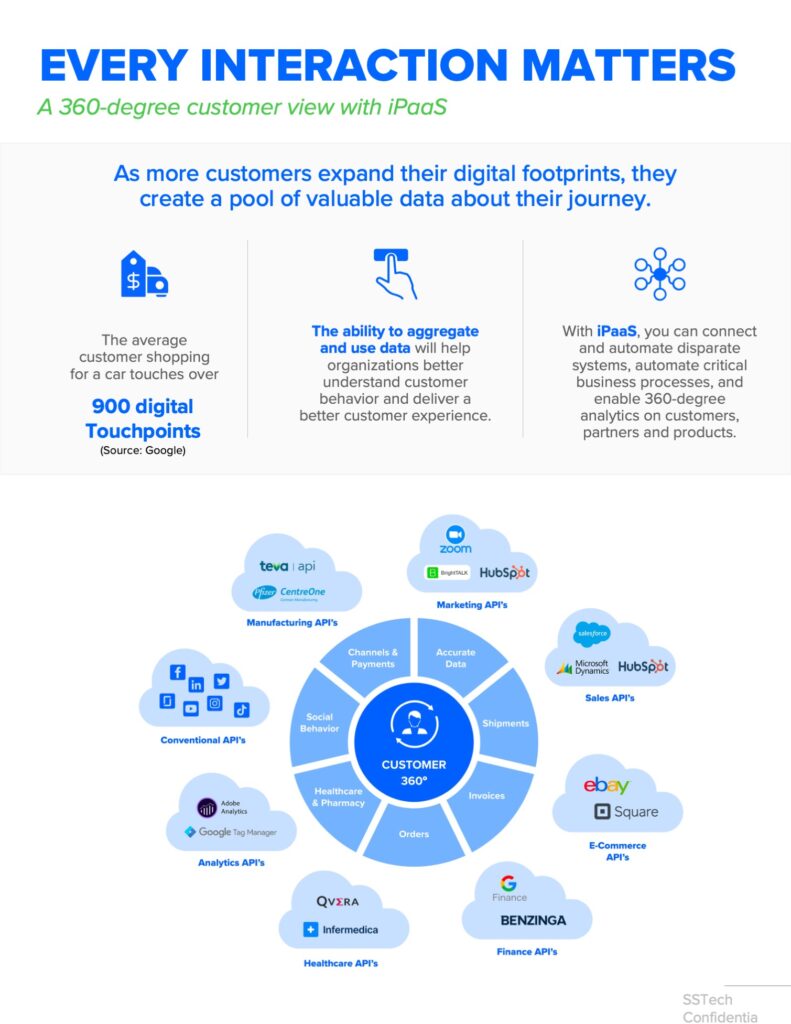 The Dell Boomi iPaaS platform can address these key characteristics for omnichannel retailers:
A unified 360-degree customer view
A high-quality integrated data
Process orchestration
The flexibility to innovate
We recommend reading this iPaaS white paper to better understand iPaaS.
Conclusion
We've been blessed to serve our customers through direct services and partnerships throughout 2021. Our delivery teams work hard to ensure we remain a leader in innovation, customer satisfaction and provide the best application development solutions. They continually train to learn the latest developments for each of these platforms, doing so through academies and certification programs provided by our partners. Also, through development in our own best practices achieved through customer delivery.
Our System Soft team is ready to support you. We're here to help you select the proper tool during a free workshop and be your one-stop delivery shop for your organization.
We look forward to an exciting 2022, as we are thankful for the blessings of 2021.
Happy Holidays to you and your families.
Cal
Have questions and want to learn more about application development and application management? Let us know how we can help you and your organization.
About the Author: Calvin Fuerst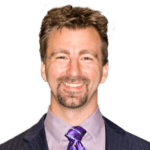 As Head of Practices at System Soft, Cal drives all rapid application development solutions and services, including licensing and service deliveries through Low-Code and No-Code platforms, integration platforms and tech accelerators, for System Soft clients. He has more than 20 years of experience in technology, specifically in sales, marketing, and software solution delivery. His leadership and contributions extend throughout System Soft, including sales prospecting and contracting, marketing, project estimation, application design and application development processes.