System Soft Technologies has established an Enterprise Cloud Integration Practice
We're excited to share that our IT Solutions business is growing and, as a result, we are looking to enrich our Enterprise Cloud Integration Practice by broadening our investment in niche Integration skills of our SST practitioners.
To drive this initiative, a new program is being launched to provide our associates with the opportunity to earn instant cash rewards for obtaining the latest Mulesoft certifications.
A cash payment will be immediately initiated for each certification as outlined below if obtained within the next 6 weeks.
$1000 Bonus
$500 Bonus
We will cover the cost of your certification exams and up to 1 retake in the event of a failed examination. Normal expense reimbursement policies will apply.
If you're not able to get it within the next 6 weeks, you'll still be eligible for the bonus, but it will be reduced by 50% if you complete it within 6 weeks to 10 weeks.
Have any of these certifications already? You're immediately eligible for the bonus.
How do I go about getting certified and getting paid?
Submit the form at the bottom to reach out to Som Hiremath. He will outline the exams and training options as well as what you need to do to associate your MuleSoft Certified Id with SST.
About our ECI Practice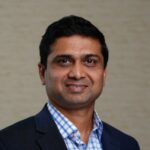 We have established an Enterprise Cloud Integration Practice under the leadership of Som Hiremath. Som brings a wealth of experience to the team, having spent 17+ years in Enterprise Integration Solutions under Deloitte, Cognizant, and HCL America in a variety of roles: Delivery, Solution Architecture, and Technical Presales. He spent another 15+ years working for Industry Vertical Account Managers, Managing Partners, selling Professional Services, and Solutions to his customers.
Som, along with Venkat Abburi is spearheading the development of the practice focused on Enterprise iPaaS and API platforms- MuleSoft, Jitterbit and Open-source to address various Integration cloud /on-prem Solution offerings including API, SOA, ESB, B2Bi, iPaaS, IoT, AI, Microservices under the services offerings Enterprise-Integration Strategy, implementation, migration, maintenance, and support.
I'm Interested in Getting Mulesoft Certified