The highly experienced IT consulting and staffing (ITCS) recruiters at System Soft Technologies have dedicated their careers to quickly and consistently connecting top organizations with the best talent in the technology market.
The System Soft Talent Acquisition team closely partners with organizations and empowers them to hire the right people for the right projects, completing them on time and on budget, and helping IT leaders to focus on growing the business.
Why are System Soft technical recruiters successful?
Every day, each IT recruiter lives and breathes System Soft's core values. They're people-centric, committed to their customers and candidates, and passionate about what they do.
To showcase our recruiters' talents and professional journeys, we're sharing with you our Recruiter Spotlight Series.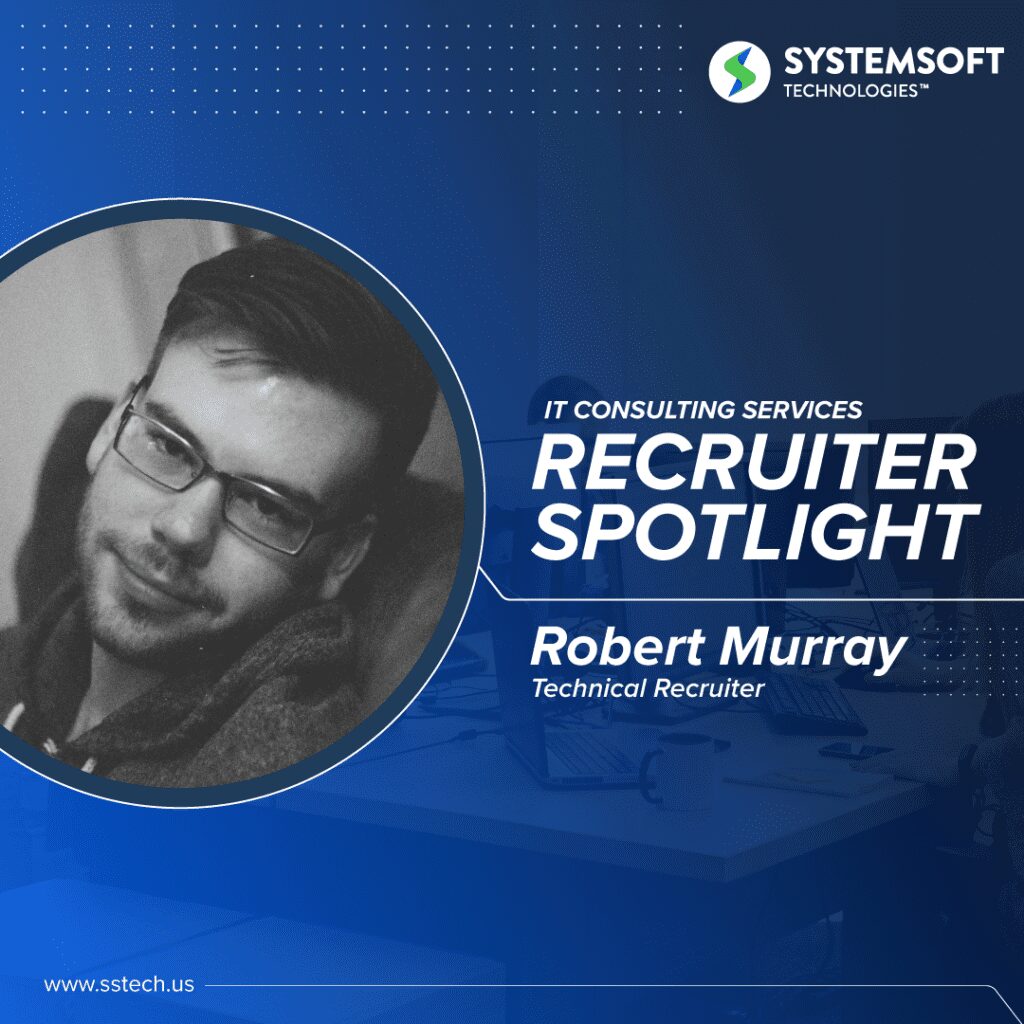 Meet Robert Murray, Technical Recruiter
Today's spotlight shines on Robert Murray. Robert is a Technical Recruiter at System Soft, where he began his journey during late summer 2021. He's been a recruiter for six years.
Robert answered five questions about his career and professional journey. Here's more about Robert in his words.
How did you get into the field and what do you like most about it?
I was working as a desktop support and systems administrator for a specialized staffing firm. It lost almost all its recruiters during a short period of time.
After a lot of recruiters left, the director of recruiting asked me if I'd like to help with a Python role his team was struggling with. I filled the role within a week. The company was impressed. I decided to give recruiting a try full-time.
I've stuck with it for six years. Making placements feels great. And I enjoy working with people!
What does your role at System Soft involve daily and what specialties do you serve?
I'm a technical recruiter supporting the Midwest and Mountain regions. I work on a wide variety of technologies. I enjoy infrastructure, cloud infrastructure and virtualization.
What made you want to join System Soft's ITCS team?
The interview process. My interactions with Angel Wade, Daniel McMahon, Kristin Lockwood and Brian Pugh were all very positive. They made it clear that the team was building something exciting. I knew they were all people I'd love to work with.
What System Soft core value(s) do you relate to most and why?
Transparency and accountability. My team's approach to filling open requirements is entirely pragmatic. It's not based on overselling, which is very important to me.
What's a fun fact about you most people at System Soft don't know?
I'm an avid cyclist. I compete in USA Cycling events across multiple disciplines.
IT Consulting Journey on Social Media
Throughout this IT consulting and staffing recruiter spotlight series, follow and interact with System Soft on our social media. Across these platforms, we will showcase our staffing recruiters' talents, professional journeys and fun facts about each of them, giving you a sneak-peek into what makes them best-in-class.
See what's on our LinkedIn, Twitter, Instagram and Facebook.
On our blog, we spotlight other System Soft employees (Jake Welch, Eric Bates, Holly Smith and Rick Thompson) who are part of our ITCS Recruiting team. System Soft stays committed to our mission and core values, appreciating the support and kindness we give each other.