The highly experienced IT consulting and staffing (ITCS) recruiters at System Soft Technologies have dedicated their careers to quickly and consistently connecting top organizations with the best talent in the technology market.
The System Soft Talent Acquisition team closely partners with organizations and empowers them to hire the right people for the right projects, completing them on time and on budget, and helping IT leaders to focus on growing the business.
Why are our staffing recruiters successful?
Every day, each IT and staffing recruiter lives and breathes System Soft's core values. They're people-centric, committed to their customers and candidates, and passionate about what they do.
To showcase our recruiters' talent and professional journey, we're sharing with you our Recruiter Spotlight Series.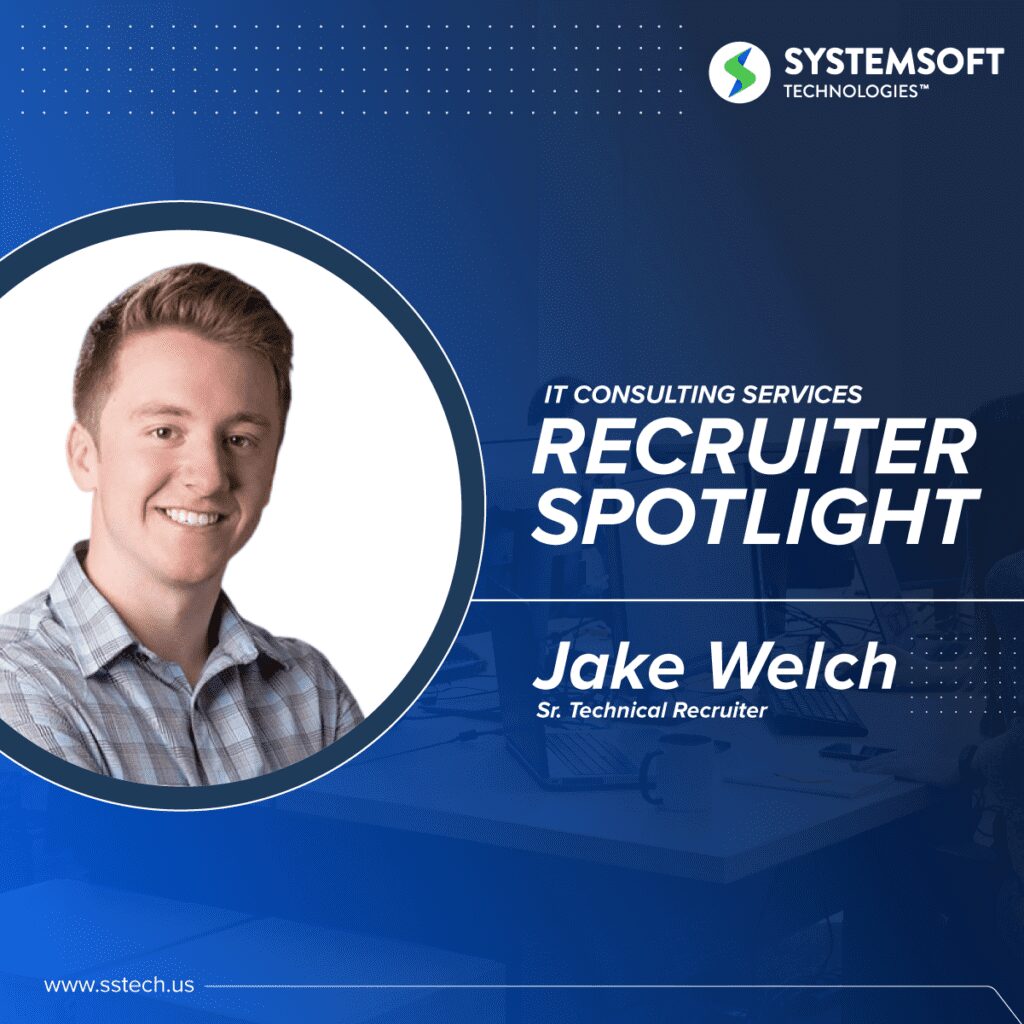 Meet Eric Bates, Sr. Account Executive
Eric Bates is a Senior Account Executive at System Soft, where he started in May 2021. He's been active as an IT staffing recruiter for 13 years.
Eric answered five questions about his career and professional journey. Here's more about Eric in his words.
How did you get into the field and what do you like most about it?
I studied IT in school. One of my first jobs after high school through an agency. I started to research more about staffing companies and how they work, and thought it was pretty cool. I wanted to work on the other side of it and help people find work, and help companies fill positions.
What does your role at System Soft involve daily and what specialties do you serve?
I develop new relationships through cold calling, social media, emailing, following up, etc. I enjoy setting up meetings with new and existing clients to learn about their company, team and IT job openings, and I tell them about System Soft.
What made you want to join System Soft's ITCS team?
We have a very senior team of IT staffing professionals worldwide, and we have proper leaders in place to ensure professional growth. This has been the best career move I have ever made. I highly recommend other senior IT professionals to work for System Soft.
What System Soft core value(s) do you relate to most and why?
Customer commitment. I believe this is the key. We must deliver results and properly communicate with a sense of urgency to customers 100% of the time, ensuring they are happy. Without customers, we are nothing.
What's a fun fact about you most people at System Soft don't know?
I love doing yard work and working on my garden.
IT Consulting Journey on Social
Throughout this IT consulting and staffing recruiter spotlight series, follow and interact with us on our social media. Across our platforms, we will showcase our staffing recruiters talent, professional journeys and fun facts about each of them to give you a sneak-peek into what makes them best-in-class.
See what's on our LinkedIn, Twitter, Instagram and Facebook.
On our blog, we will spotlight other System Soft employees who are part of our ITCS Recruiting team, as we stay committed to our mission and core values, appreciating the support and kindness we give each other.