Following Russia's invasion of Ukraine (March 3, 2022), Department of Homeland Security (DHS) designated Ukraine for temporary protected status (TPS). This status is in effect for the next 18 months. For the TPS designation, DHS cited the armed conflict and extraordinary conditions in Ukraine. This is the result of Russia's attack on that country.
According to the United States Citizen and Immigration Services (USCIS), approximately 59,600 Ukrainian citizens may be eligible for TPS.
Here's relevant information about TPS and other immigration reliefs available to Ukrainian nationals in the United States.
What Are the Benefits of TPS for Ukrainian Nationals?
During the designated 18-month period for Ukraine, TPS holders, or Ukrainians, are:
Not removable from the United States nor detainable by DHS, based on his or her immigration status
Eligible for an employment authorization document (EAD)
Eligible for travel authorization
Who Qualifies for Temporary Protected Status?
Ukrainian nationals must demonstrate their continuous residence in the United States since April 11, 2022. And they must have a continuous physical presence in the United States since the designation date of April 19, 2022. (Federal Register)
Who Is Ineligible for Temporary Protected Status?
Ukrainian nationals currently outside the United States are not eligible for TPS under this designation. And they will not become eligible by relocating to the United States before October 19, 2023.
Application Process for TPS for Ukrainian Nationals
Eligible Ukrainian nationals must submit Form I-821. This is an application for temporary protected status. And it must be done during the 18-month, initial registration period between April 19, 2022 and October 19, 2023. The application can be completed and submitted online.
When filing a TPS application, applicants can also request an employment authorization document. This can be done by submitting a completed Form I-765, an application for employment authorization.
2 Additional Temporary Relief Options for Ukrainians in USA
1. Special Student Relief
According to DHS, there are approximately 2,616 F-1 students from Ukraine in the United States. Typically, F-1 students must maintain a full course of study and may only work under limited circumstances.
However, DHS may suspend certain regulatory requirements related to full-time study and employment for students from countries experiencing conflict, natural disasters or other emergent circumstances. This suspension is called "special student relief" (SSR).
On April 19, 2022, DHS added Ukraine to the list of countries for which SSR is available. In addition to SSR, F-1 students may apply for permission to work off-campus. But only if they face severe economic hardship due to unforeseen circumstances.
2. Extensions and Changes of Status
A Ukrainian national presently in the United States with nonimmigrant (i.e., temporary) status may extend his or her expired authorized period of stay by applying for an extension or change of status. This is based on extraordinary circumstances beyond the applicant's control.
The DHS has the discretion to excuse the delayed applications. But the current situation in Ukraine serves as an argument to prove the stipulation of an "extraordinary circumstance beyond the applicant's control."
Conclusion
As a trusted IT solutions provider with a global presence, System Soft Technologies takes on both economic growth and social welfare as part of our corporate responsibility. System Soft is committed to embrace a diverse and equitable environment for all employees.
As a result, System Soft applauds and proudly supports the TPS designation and special student relief for Ukrainian nationals, which supplies immediate immigration protection for Ukrainians migrating to the United States.
For more information about System Soft, click here.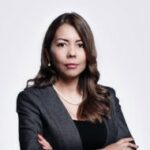 Liliana Torres Valencia is an In-house Immigration Attorney at System Soft Technologies. She has extensive experience in employment and investment-based nonimmigrant and immigrant matters. She handles cases for individuals and organizations throughout their nonimmigrant and immigrant journey, including resolution of complex legal issues, development/implementation of strategic solutions and risk management. Her experience, professionalism, strong work ethic and effective advocacy skills on complex cases have translated into successful results for System Soft employees.