These trends are a must-know for every business leader
Flexible work is here to stay. And the talent landscape has fundamentally shifted. Hybrid work is inevitable.
During 2020, the way we work forever changed. Every organization around the world felt the shift. Remote work created endless job opportunities. Employees now have the upper hand in the job market.
Many are looking for the best of both worlds: A flexible, digital workspace that provides the opportunity to work remotely and to collaborate in-person from time to time.
During 2021, up to 40% of the world's workforce considered leaving their employer due to a lack of flexibility. Hybrid work has become critical for business leaders looking to attract and keep diverse talent, according to The Work Trend Index survey.
Remote and hybrid work has given people more family time. It has provided them freedom to choose when and whether they commute to work.
But with change comes new challenges. With this new way of working, it's pushed teams to become siloed. And digital exhaustion is increasing day by day.
Business leaders must pay attention to productivity and labor signals to best transition their teams into this new era. Continue reading to explore the 7 trends shaping the future of work.
1. Flexible Work Is Here to Stay
Employees are seeking organizations that provide them options for controlling where, when and how they work. To accommodate employees, business leaders are actively reimagining their office-centric workplace and shifting it to human-centric by implementing a remote or hybrid workplace.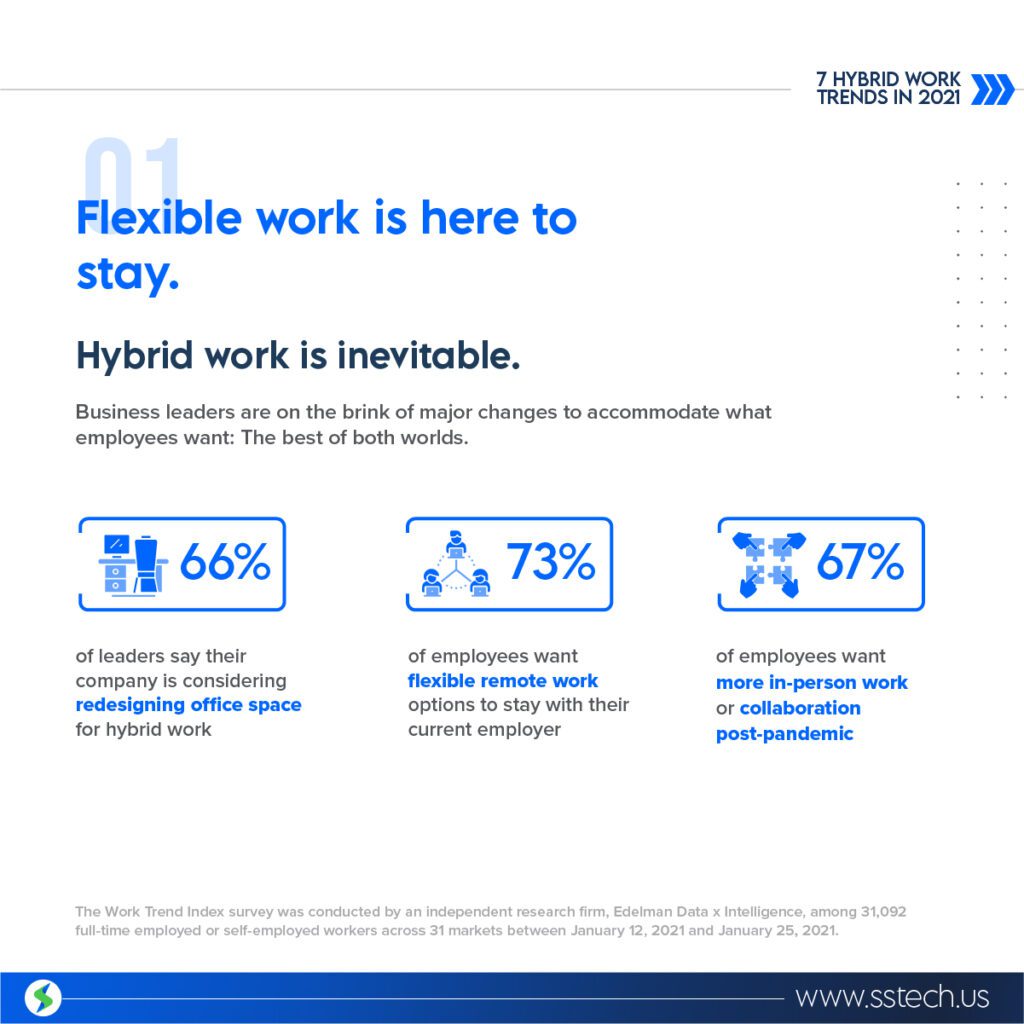 2. Leaders Need a Wake-up Call
Business leaders are out of touch with their employees, as they are faring better and are not faced with the same challenges. This lack of understanding may cause leaders to also have a lack of empathy. Empathy is what their employees look for.
Up to 37% of the world's workforce says organizations are overworking employees during this time. Business leaders need to now put themselves in their employees' shoes. Or they may face major losses within their organization.
3. High Productivity Masks an Exhausted Workforce
Productivity has increased or remained the same during both 2020 and 2021. However, this productivity comes at a human cost.
Up to 1 in 5 respondents of a global survey said their employers seem to not care about their work-life balance. Those surveyed also felt overworked and exhausted. Microsoft 365 productivity signals can testify to the digital exhaustion employees are feeling, caused by the speed and urgency of virtual work.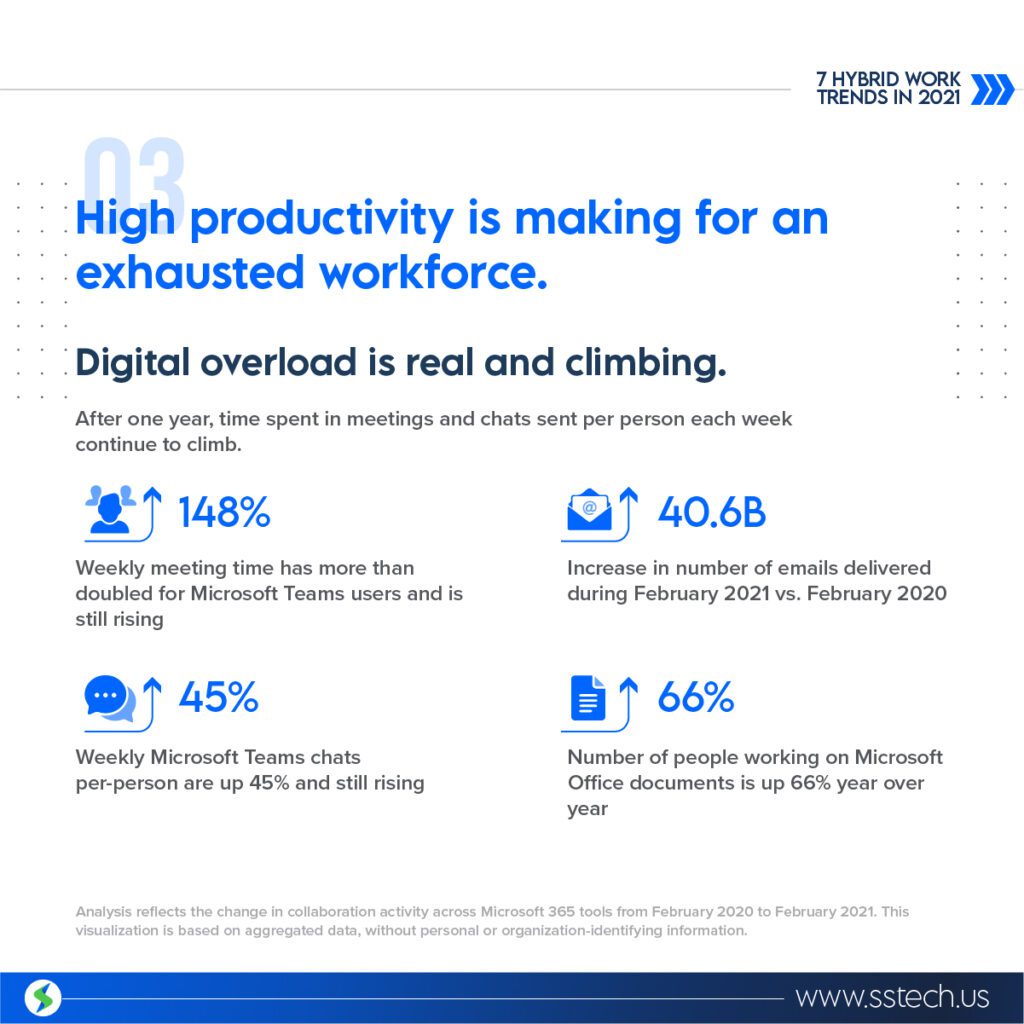 4. Gen Z at Risk and Needs to Re-energize
Right now, an overlooked demographic seems to be struggling.
Up to 60% of Gen Zers—those between the ages of 18 and 25—said they are barely surviving. People of this generation are typically early in their careers and single. This makes them more likely to feel the impact of isolation.
Those surveyed also reported they are having a tough time balancing their work and personal life. Therefore, they're not feeling as engaged or excited about logging in to work.
It's important for business leaders to reach out to this generation and promote inclusivity. That's because this younger generation offers a fresh perspective and challenges the status quo.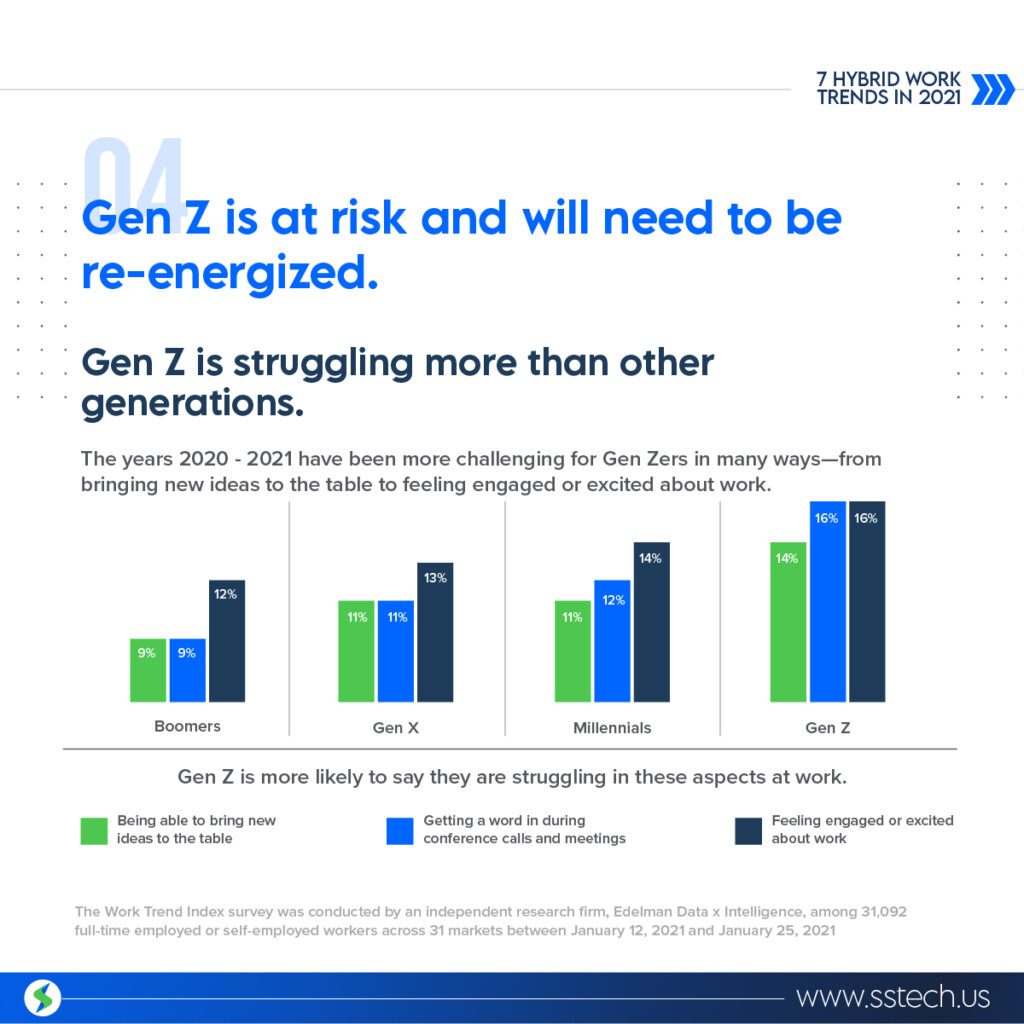 5. Shrinking Networks Endanger Innovation
While the coronavirus pandemic has promoted isolation, many have felt their work took over their personal lives. As they shifted into lockdown, most people clung to their immediate teams for support, but withdrew from distant networks.
Strong workplace networks are important, because they help produce innovation and productivity.
As business leaders continue to strike a balance through a hybrid workplace, they must keep finding ways to foster cross-team collaboration and spontaneous idea sharing.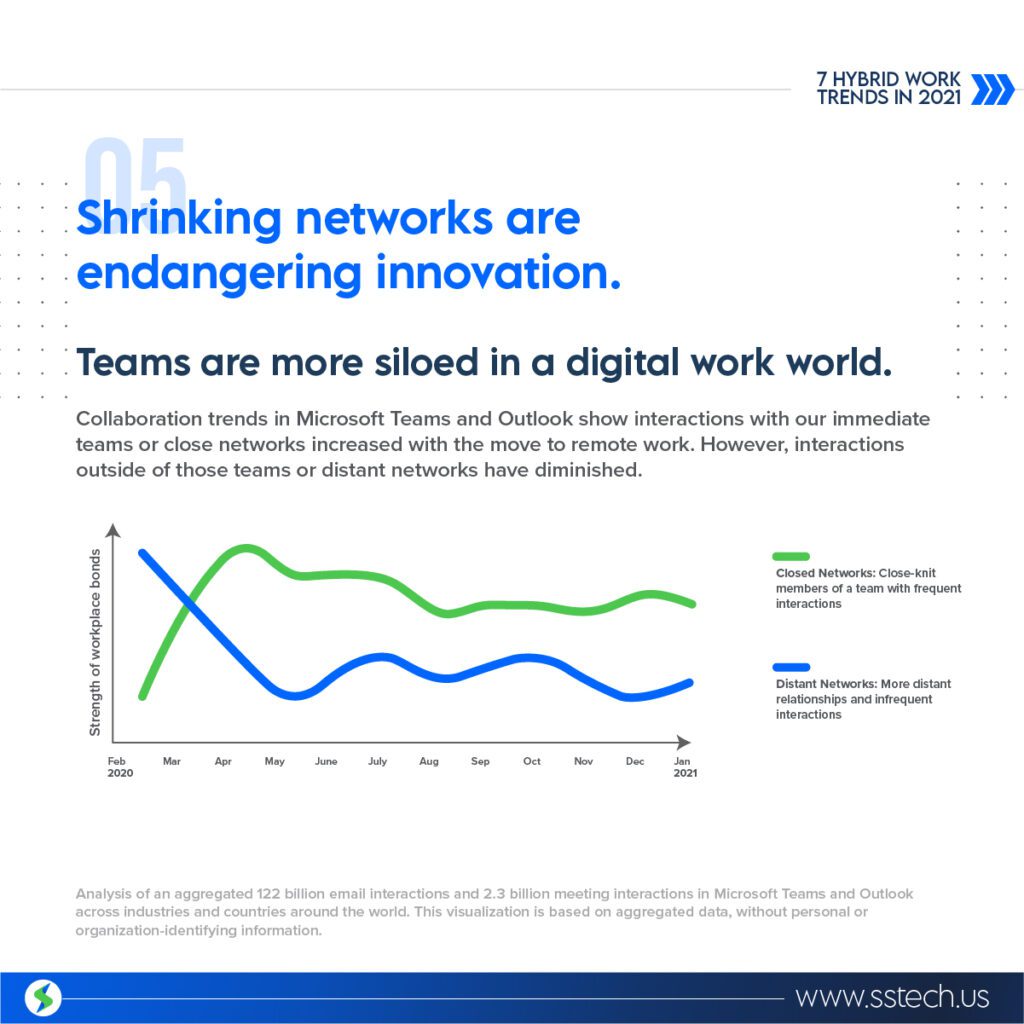 6. Authenticity Spurs Productivity and Well-being
People continue to navigate through unprecedented stress, balancing children, home-schooling and many personal life events.
With employees shifting to a remote or hybrid workplace, the overall work environment has become more personalized. Many say they feel more comfortable being vulnerable around their colleagues.
Many co-workers have stuck to each other, as they got through this past year. Those surveyed reported they have cried with a co-worker. Especially those working in industries affected the hardest by the coronavirus pandemic.
These genuine interactions within the workplace have helped foster an environment where people feel more comfortable being themselves. Overall, this will help power productivity and innovation.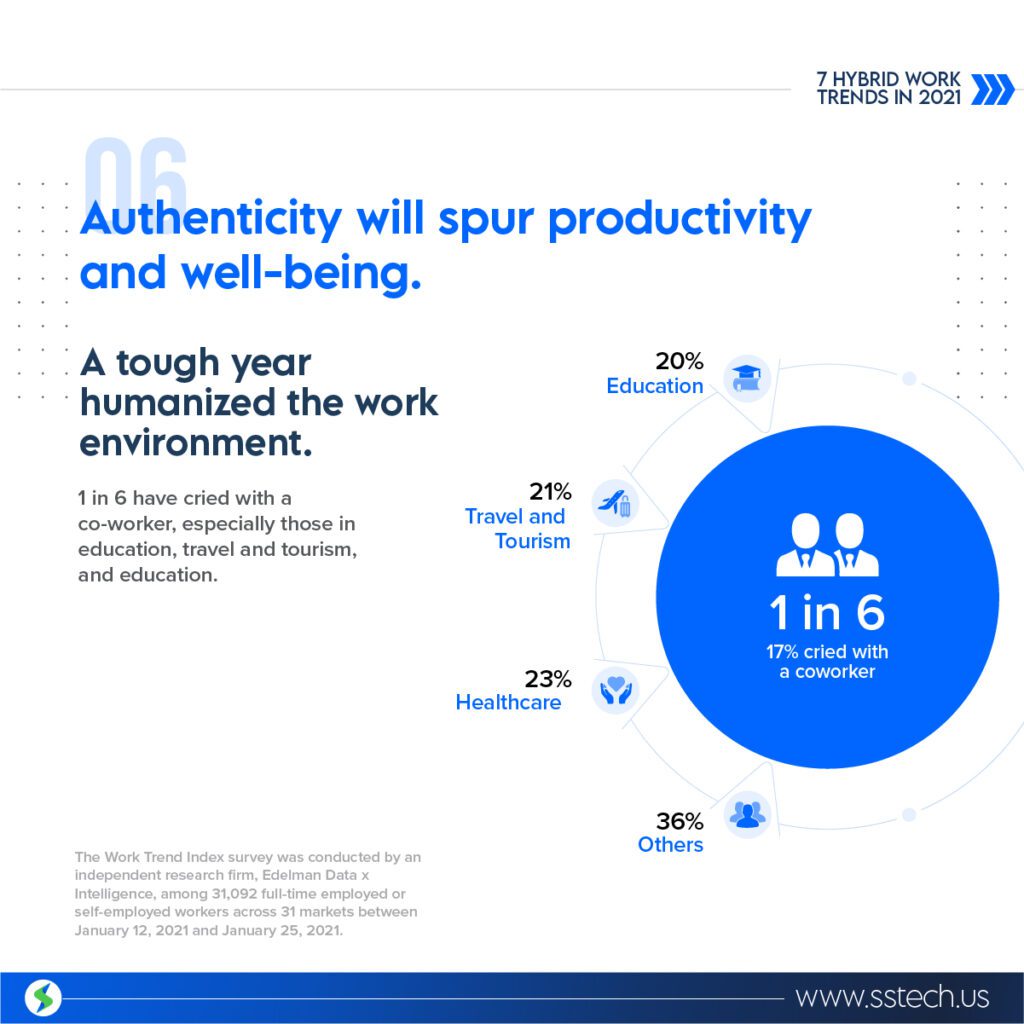 7. Talent Is Everywhere in a Hybrid Work World
One of the brightest outcomes from the shift to remote work is a vast and diverse talent pool. Remote job postings on LinkedIn increased more than 5x times during 2020 and 2021.
This fundamental shift will expand economic opportunity for individuals. It also enables organizations to build high-performing and diverse teams from a nearly unlimited list of candidates.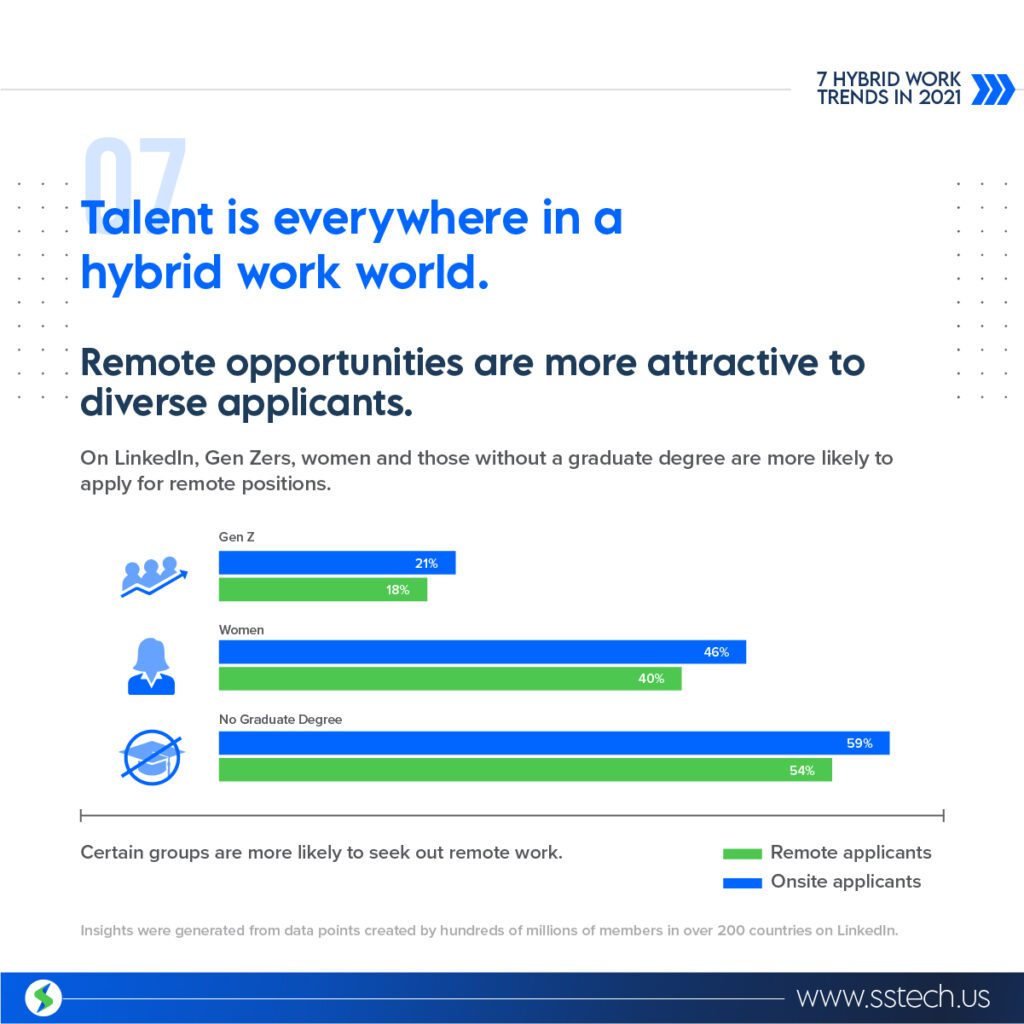 Conclusion
System Soft Technologies is dedicated to helping organizations, their business and IT leaders, and their teams build a Digital Workplace strategy for 2022.
System Soft can partner with you. Book your complimentary, 30-minute assessment with one of our Digital Workplace Solution of experts. Start seeing the endless possibilities of what your customized, digital workplace can be for your employees, their productivity and your organization's growth.
About the Author: Whitney Church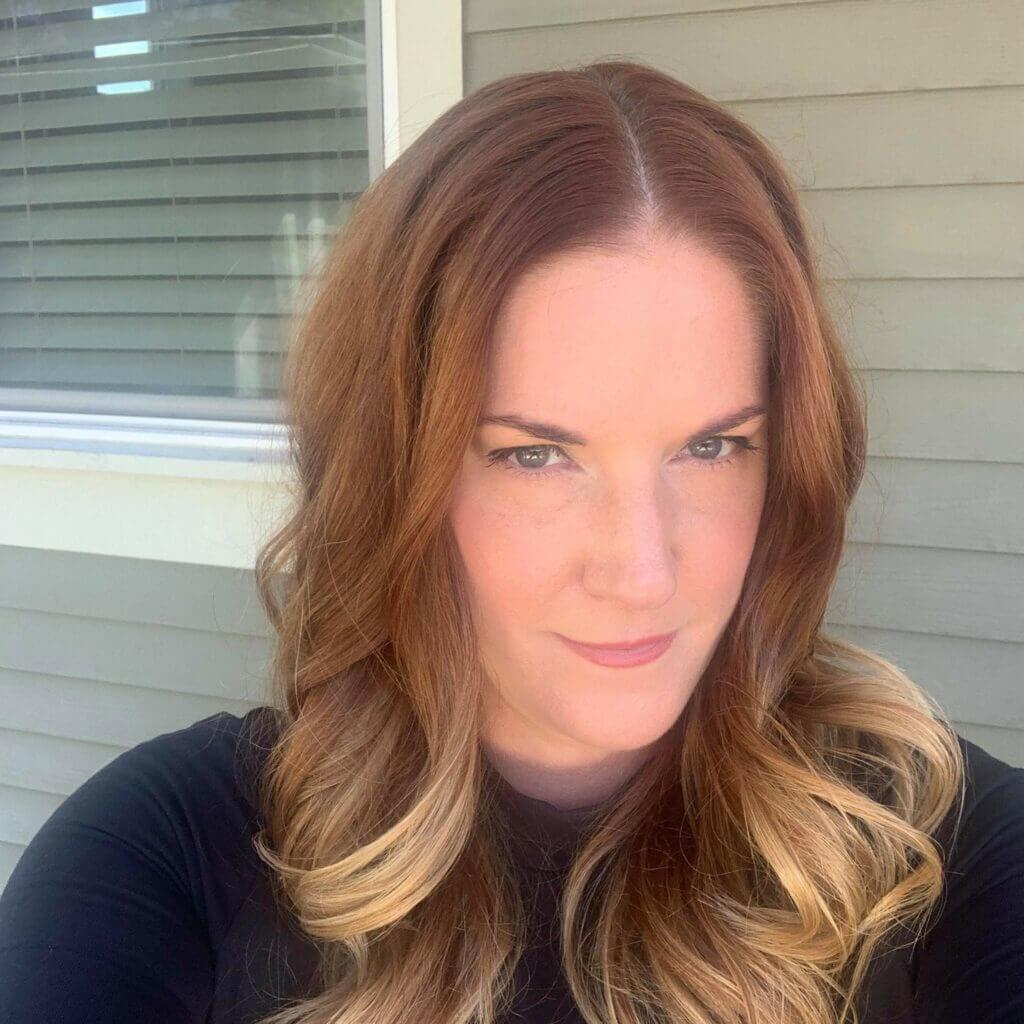 As Modern Workplace Solutions Architect at System Soft Technologies, with more than 16 years of enterprise collaboration and solutions experience, Whitney can gain a thorough understanding of an organization's hybrid workplace software by assessing its needs, then building a strategy and setting it up for long-term success. She worked directly with Microsoft during the early days of SharePoint, OneDrive and Teams, seeing first-hand the evolution of Modern Workplace solutions and developing industry best practices.