The past few years have seen remote work, flexible hours and reliance on technology evolve into common practices in many modern-day hybrid workplaces. The Coronavirus pandemic has accelerated their implementation.
Amid a pandemic, many companies have already resumed hiring, and some in a big way. In many cases, they are filling spots vacated during the crisis.
And employees showing symptoms of an illness—whether it's COVID, the flu or a common cold—now have the social approval and peer pressure acceptance to work remotely at home, so they don't spread their germs among other staff.
But how will recruitment planning look after COVID-19? And are you positioned to capture the talent you need both today and tomorrow?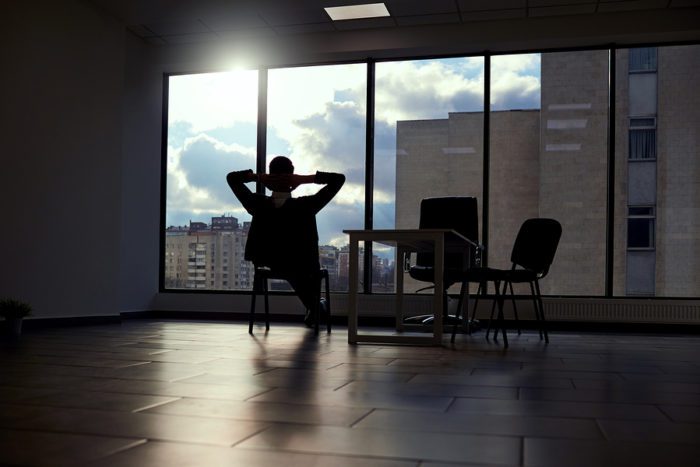 Future of Work
With 62% of employed Americans working from home because of COVID-19, the future of work looks unconventional compared to the pre-pandemic state.
During the past few months, your employees have worked at home. They've done countless Microsoft Teams or Zoom calls. Even juggled home schooling. And they have tried to maintain composure in the face of uncertainty.
It's evident the pandemic has significantly impacted the way employees and companies do business on a worldwide scale.
Some changes may be temporary until there's a vaccine, while other changes may become permanent.
Brace yourself. Regardless, there are big changes coming to the future of work. Here are five of them.
Remote Work Is Here to Stay
One lesson we've learned during this pandemic (and resulting quarantine and social distancing orders) is that many employees and many businesses can survive in an entirely (or, at least, mostly) remote working environment. They can even thrive.
Despite industry, many organizations worldwide have quickly adapted to fully remote workplaces. While the remote work trend may see a decline once the pandemic runs its course, the many benefits of remote work—increased productivity, boost in employee satisfaction, reduced operating costs, among others—renders it likely it will remain a preferred choice for both employers and employees.
According to a Gallup poll, more than half of remote workers say they would prefer to continue working remotely as much as possible in a post-pandemic world. Now that more people have had a taste of it and proven their productivity, it will be difficult for companies to take it away from their talent.
Of course, not all roles will be able to completely transition to a remote schedule.
Workers in industries like manufacturing, hospitality or services obviously can't take their work home with them. Neither can healthcare workers and first responders, who battle every day on the front lines of this crisis.
However, many office professionals, who only require a stable internet connection and a computer to do their work duties, will likely work remotely in larger numbers post-COVID. It's all dependent on the industry, company and specific role.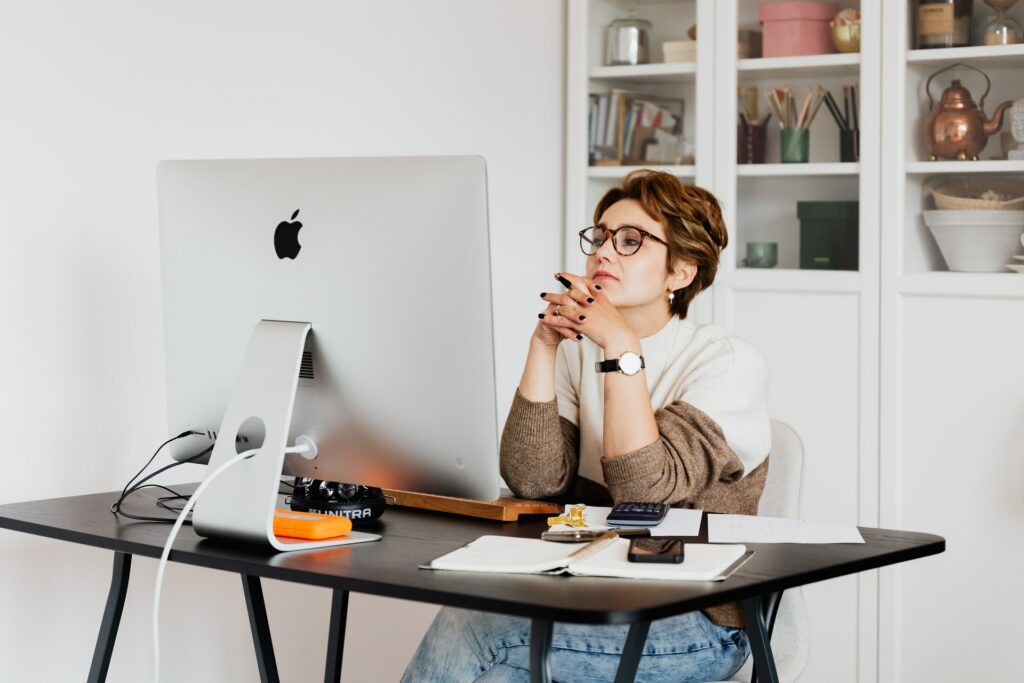 New Digital Age
The New Digital Age has brought tremendous ease in which remote workers can function & improve future of work.
[Watch webinar: The 6 Critical Technologies You Need for the Post-Pandemic Economy]
Unlike past years, workers no longer must deal with clunky, unreliable VPN connections to access data or vital information stored on company servers.
Today, the cloud provides most businesses with tools employees need to create their own virtual work environments at home. These solutions allow stakeholders to access and share data, automate workflows and communicate in real time.
With many businesses integrating cloud-based software solutions, which allow them to run their businesses from virtually anywhere, countless office employees can work remotely without disruption to business operations.
As current times have shown, so many roles can endure the move to a remote environment. It's evident that remote work in large numbers is now a mainstay.
Flexible Work Hours is future of work
Thanks to the pandemic, many employees have realized the workday doesn't necessarily follow a 9-to-5 work schedule. For many, particularly working parents, who have balanced taking care of children or sick relatives and remain productive, it's become clear work hours don't need to run consecutively.
Instead, those hours can be spread throughout the day, without adversely impacting work output and bolstering outcomes.
Responsively, many employers have relaxed rules about employees starting and ending their days at a set time.
Trust and respect will be a new norm for employers managing staff moving forward. And, with so many employees now successfully working from home, they are happily doing so. It will be more difficult for employers to deny flexibility around work hours and work settings.
[Watch webinar: Drive Employee Productivity with Digital Workplaces]
Virtual Meetings, and Less of Them
Good news. In-person meetings will be greatly reduced.
You may even see less meetings overall on your post-pandemic calendar, according to Nadjia Yousif, managing director and partner at Boston Consulting Group. The pandemic is a technological equalizer of sorts, she says, whereby people previously unaccustomed to using tech tools in the workplace have had no choice but to adapt.
And, in some cases, workers are becoming more efficient. Rather than scheduling formal meetings to communicate information, there may be a shift towards using more agile and efficient ways to communicate like email and chat.
When meetings do need to happen, they will continue to be held virtually via video conferencing systems, such as Microsoft Teams or Zoom.
Additionally, using collaboration tools like Teams can mean even fewer meetings, as people connect to work together and prepare for presentations and webinars. It's become quite common now for multiple people to simultaneously edit and add to a PowerPoint deck, sharing and collecting diverse viewpoints, without compromising version control.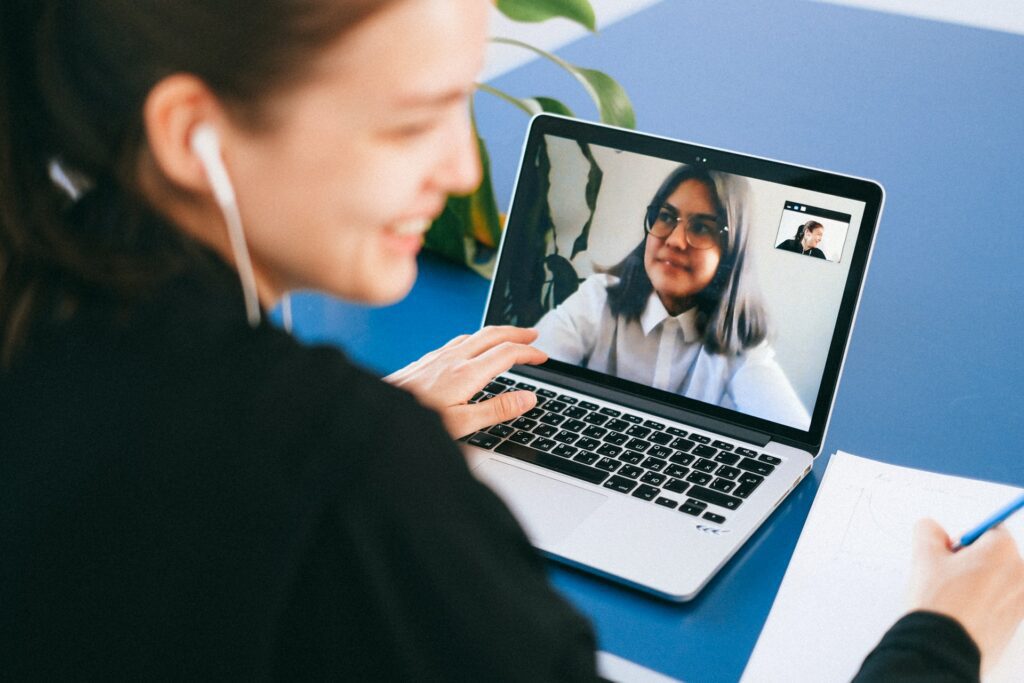 Travel Log 2021
As an aside, a potential impact of this new norm of minimal business huddles infers business travel will become rare. Unlike years past, when 62% of American workers traveled to another state for work, or roughly 1.1 million for business each day, remote work has shown us few of our meetings require a face-to-face for success. Companies will also have a difficult time justifying travel expenses, as doing so will continue to pose a public health threat.
[Watch webinar: Optimize Your Organization with Microsoft Teams and Conquer the Next Crisis]
More Equitable Workplace for Women
With momentum gained by a shift to a remote work model and a flexible work schedule, more women can remain in the hybrid workplace, as they balance home and work life, says Elise Gould, senior economist at the Economic Policy Institute.
It's well known that women are more likely than men to adjust their careers for family. Shifting away from a traditional office setting will allow women to continue their careers, and more easily take care of their home and family.
Indeed, gender equality is shown to be much higher in countries where they offer flexible work schedules. This particular trend & future of work is well noted in the Netherlands and Nordic countries. There, nearly all employees have work-schedule flexibility.
Physical Workspace Innovations
Organizations continuing to adopt a permanent or part-time in-office work environment may see significant changes in the way their offices are structured.
The concept of open floor plans we know today may become a thing of the past. Often criticized as crowded, disruptive and intrusive, now, open floor plans are considered a health hazard.
Some experts say open floor plans can be reimagined with better consideration for personal space. Increased desk spacing, partitions and availability of empty, secluded workstations for employees who need privacy or a focused work area gives employees increased safety, security and control over their workspaces.
Something else that's recently come to light for those businesses implementing digital workplace innovation is staggered in-office scheduling. For those who may eventually want to return to the office, they can on a staggered schedule, providing businesses the ability to offer social distancing, within the same office footprint.
On the other end of the spectrum, office buildings can now become one big conference center. With many people working remotely, focused work can get done at home. Meanwhile, the office morphs into a facility for conferences and company events in a post-pandemic macrocosm.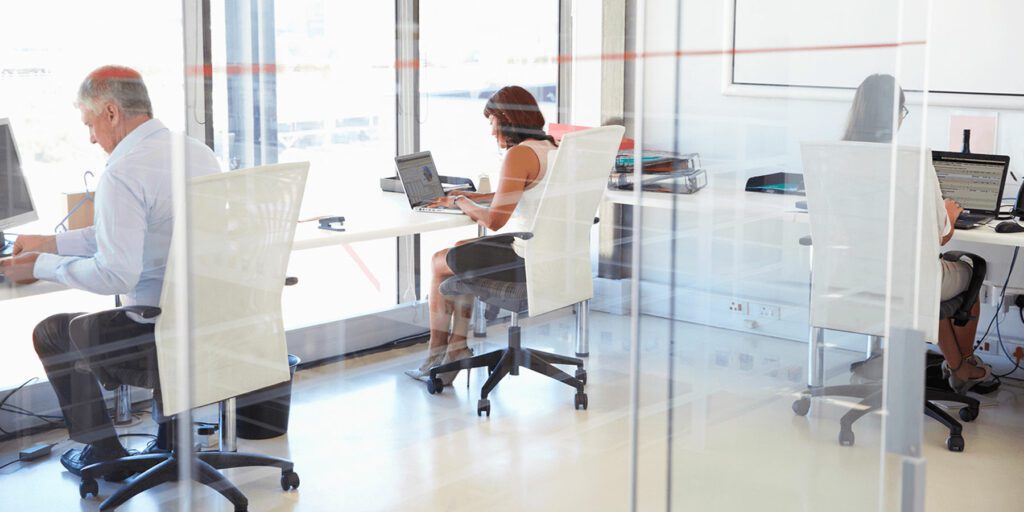 Conclusion
As workplaces transition through COVID-19 and post-pandemic, critical-thinking technology services and solutions providers like System Soft Technologies (SSTech) can help organizations adapt to ever-evolving risks. And it can get done with a variety of accommodating technologies, including Employee Experience Platforms, Robotic Process Automation, Data Insights, Digital Workplace Integration and Talent Solutions.
Are you ready to start planning a digital transformation to help improve your recruitment strategy for the new normal? Contact us to prepare now through this pandemic, and beyond.
About the Author: Sabreen Dimero
Sabreen Dimero serves as the HR Manager at System Soft Technologies. When Sabreen isn't traveling, frolicking in the mountains, snuggling up to a good book or hunting for the best donuts in town, she often shares her knowledge about HR Administration, Diversity and Inclusion, Benefits Management and Employee Relations, among other people-in-the-workplace topics. Her dog, Finn, approves.