The Business Solutions team at System Soft Technologies thrives to build and implement innovative solutions. The goal is to increase business productivity and economic growth at your organization.
System Soft Business Solution experts begin by assessing your business goals, processes and technology. When they have gathered all necessary information, they build an innovative, robust strategy to meet your organization's goals and solve challenges currently keeping your teams from meeting their full potential.
What Makes System Soft Business Solutions Different?
System Soft can become your trusted advisor, as we help ensure the technology your organization uses today best serves your business needs and growth.
We can build specific, customized solutions for your vertical and industry to automate crucial business processes. Our unique combination of strategy, design, development, integration, AppDev and maintenance capabilities helps deliver for you fast and cost-effective innovative business solutions.
Our experts strive to build a long-term partnership that will go beyond a one-time project. That's because we're invested in the success of your organization. And we carefully listen to the needs of your employees.
Periodically, System Soft will showcase our experts, so you can get to know them better. And how each one of them can supply your organization with the tools you need for building growth and competitive success.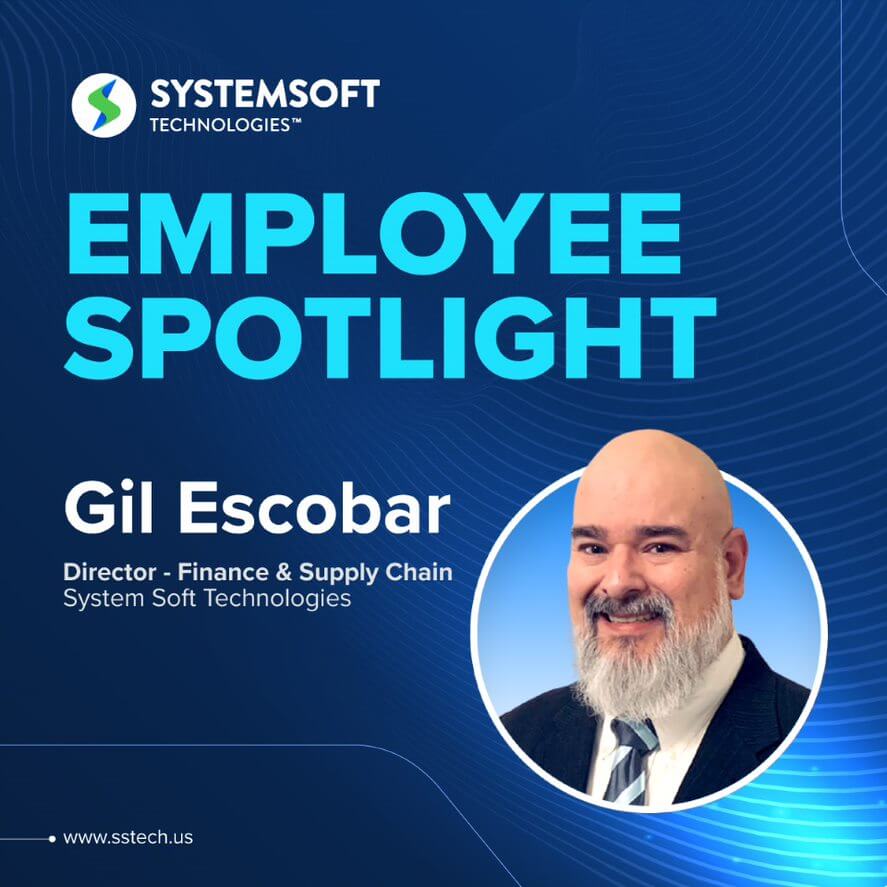 Meet Gilbert (Gil) Escobar, Director of Finance & Supply Chain
Today's spotlight shines on Gil Escobar. Gil is the Director of Finance and Supply Chain at System Soft. He joined our family in late Fall 2021. He has more than 20 years of experience in IT and Microsoft Solutions. And during this time, his success and his clients' success have catapulted him to become a leader throughout the technology industry.
Many who personally know Gil understand his "be positive" motto. That's because he's one of the few individuals around any of us nowadays who chooses to remain positive regardless of what life circumstance he may be facing.
Gil has taken the time to answer six questions about his career and journey as a Business Solutions expert. Let's get to know Gil in his own words.
What inspired you to choose your career path?
As a child, I was very inquisitive. I enjoyed puzzles and problem-solving. I realized early on that I had the gift of gab, and I was born to sell.
My true entrepreneurial spirit was honed by selling Kirby vacuum cleaners to pay for my (college) education. With a business background, an interest in software and my love for problem-solving, my career path led me to consulting.
What's your favorite part about building long-term partnerships with clients?
My favorite part of building long-term partnerships with clients is being a part of their success and growth and finding the best solutions for them to achieve their business goals.
What are your role and responsibilities at System Soft?
As the Director of Finance and Supply Chain, my main responsibility is building a successful ERP practice for System Soft and offering innovative finance solutions and innovative supply chain solutions to our clients.
What can current and future clients expect from your practice area?
A team of experts who specialize in Microsoft Dynamics Business Solutions and who will provide the highest level of service and commitment to their business.
How do you plan to optimize relationships with System Soft partners?
To optimize our relationship with System Soft partners, I plan to utilize key partners to provide the best products and services, exceeding our clients' expectations.
What words of encouragement would you like to share with young professionals who are currently choosing their career path?
My favorite saying is "knowledge is power." So, I would encourage young professionals to gain as much knowledge as they possibly can.
Other words of encouragement: Stay passionate about your work, remain disciplined in your work life and always keep a positive mental attitude!
Conclusion
Learn more about System Soft Business Solutions and how they can help your organization grow and succeed.
Book a meeting with Gil to discuss your business goals and needs. Get on top of innovative business solutions for your organization.