It's no surprise that culture plays a critical role in today's organizations, and you may be wondering why it's so important.
Culture is much more than just holiday events, benefits packages, and free snacks in the breakroom. It is the glue that holds a business together as it impacts the way an organization is perceived by the employees, stakeholders, and the entire community.
A company's culture starts with its core values.
An organization that cares about people takes time to develop a set of guiding principles to align every employee and to lay the foundation for a culture of sustainability and growth.
Are you ready to join a company that puts talent first, encourages everyone to be actively involved and promotes growth from within? If the answer is yes, look no further.
These eight core values forge the spirit of collective purpose and growth here, at System Soft Technologies.
We hope that our strong commitment to quality and teamwork can help you better understand our culture and the role it plays in helping our employees and customers achieve their goals.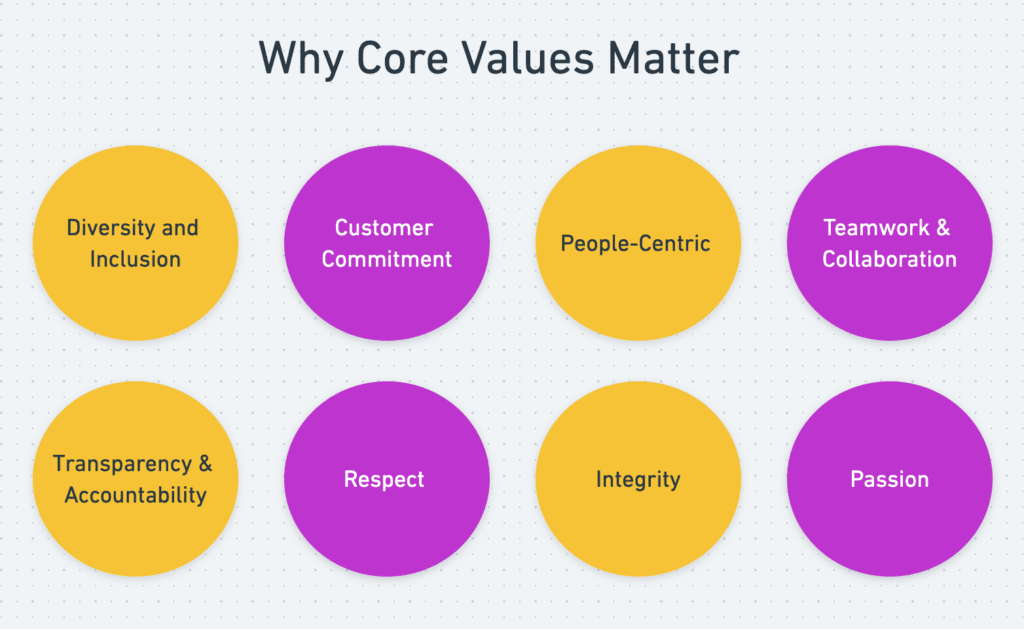 Diversity and Inclusion
Diversity and inclusion are our biggest priorities not only because they allow people to shine and show their best selves but also because these values encourage our team members to make a positive impact despite any differences.
Employees from all walks of life are welcome, and we celebrate what makes us unique. Everyone has a voice, and all individuals are treated fairly and respectfully.
By prioritizing diversity and inclusion, we ensure that our people work together to benefit themselves, customers, and the entire organization.
Cultural diversity allows people to serve customers with different backgrounds without interpersonal bias that prioritizes certain social groups, statuses or demographics.
Our inclusive environment brings people together and welcomes differences in the form of respect demonstrated in actions and words that enable and encourage everyone to do their best.
By promoting diversity, we embrace differences that make people unique. This, in turn, allows them to bring their authentic selves to work every day.
Customer Commitment
If you have ever had a positive experience with one of our dedicated team members, you've seen this core value in action. We are committed to delivering quality service and stellar customer support through building relationships that positively impact our employees and our clients.
We strive for open and honest communication with internal and external clients which helps forge the environment of trust and ensures customer satisfaction.
Customer commitment gives a sense of value and brings employees together to work on achieving a greater purpose. Having a greater purpose doesn't just improve morale and employee satisfaction, it also builds the bottom line.
Companies with a strong sense of purpose and clearly articulated customer commitment values experience higher growth than companies that aren't as focused on achieving a common goal.
By sharing our customer commitment values and prioritizing the purpose, we build an environment of fun and collaboration.
People-Centric
Happiness and wellbeing of our employees and clients is our main priority.
By connecting with people on a personal level, we strive to create an environment that nurtures and empowers our team to be the best that it can truly be. Happy employees take good care of customers, and in return, our customers always come back.
We demonstrate the importance of our employees' happiness and wellbeing not only through catchy email headlines and regular team meetings but also by encouraging them to do what they're good at, and what they like to do.
Every project is focused on stimulating innovation and helping our employees master the latest technologies that take customer experience to reach new heights. Our team members work in an environment that values fulfillment, satisfaction, and career growth and they are eager to learn and implement their knowledge to consistently provide excellent customer experience.
Teamwork & Collaboration
It's important to remember that teamwork and collaboration not only bring people together, they also increase job satisfaction and encourage better performance.
Consider teamwork a sport where every position player exhibits strong skills and excels in his or her own role.
And just like in any sport where each team player is laser-focused on winning the game, workplace collaboration brings people together and makes achieving a big-picture goal possible.
We collaborate across teams, functions and business units to deliver the best work. We successfully balance employees' skills with the organizational goals where mutual support, collaboration and team cohesion are promoted.
Contributions of those who are used to working independently are equally important as the teamwork itself.
We value a work environment that gives employees the space to communicate openly and honestly and where they are successful in forming meaningful bonds with each other.
When individual employees strive to do their best, the whole team is able to successfully achieve anything.
Transparency & Accountability
We value open and honest communication internally and externally – people of every level, associates and executives alike, feel a sense of ownership over their work, and we trust our employees to bring their best selves to achieve great results.
Transparency is key to making our people feel like they are working at a company with high ethical standards. Because of open communication, our team members are engaged and committed to the company vision.
With a strong sense of transparency and understanding of the company vision, our employees freely share ideas, suggest creative solutions to the most complex problems and achieve desired objectives with a great degree of innovation.
Our team members understand their personal responsibility in achieving a common goal and take ownership of their work seriously.
Respect
Treating each other with respect is a value we find absolutely necessary for building highly functional and successful teams. To us, respect means creating a work environment where everyone is heard and valued.
Respect is about open and honest communication where differences are encouraged and where trust and transparency thrive.
As we move forward and evolve, our employees also feel that their contributions are valued and recognized.
Our people respect themselves and each other, and we treat one another with appreciation and dignity. Respect means accepting someone for who they are, even if that person is different or disagrees with us.
Our team is diverse and we recognize that everyone is equally important and no individual's time is more valuable. We respect each other's values and contributions to our team, customers, vendors, and community.
Integrity
We've adopted business integrity as a part of System Soft Technologies' culture. Everyone in the company understands the behaviors they must follow to achieve a high level of ethical culture.
We strive to do the right thing when we deal with fellow employees, clients, vendors, stakeholders, and the community.
Our employees hold themselves to the highest moral and ethical standards in the workplace where everyone's safety and dignity are valued.
Integrity means that we remain truthful and honest in our professional work, even when facing adversity. Every action is carried out with trustworthiness and self-respect. By being honest with ourselves and each other, we show commitment to company values, mission and purpose.
Passion
Committed in both heart and mind, our employees achieve and outperform their goals with fierce enthusiasm and constant dedication. Passion is at the heart of our company culture.
By continuously moving forward and innovating, we bring passion and enthusiasm to everything we do and we celebrate our successes along the way.
We truly believe that without passion, leadership would be just rational management. And to us, it simply is not enough. Leadership is about emotion.
It's about feelings, dreams, inspirations, excitement and achieving great results. And together as leaders, we show passion in our teams, services, customers, communities, and families.
Join our team
System Soft Technologies' success is built around our people. We believe our achievements depend on our team's strong values of commitment, teamwork, collaboration, quality, and transparency.
Every day we build programs and develop stimulating projects that grow talent, help people master the latest technologies that contribute to the wellbeing of our customers and the organization.
Join our team today and see for yourself how you can make a difference in the company that's been a leader in enterprise IT solutions for over twenty years.
Browse our Careers Page to learn more.