Part 3 of a Special Employee Spotlight Blog Series celebrating Asian Pacific American Heritage Month 2021.
As a certified Asian American Business with USPAACC, we mark Asian Pacific American Heritage Month (APAHM) this May by celebrating all Asian Americans and Pacific Islanders throughout our country.
We recognize the value of diversity as a catalyst for equality and expression. We embrace it, because when we hold hands in appreciation and acceptance, we can overcome barriers that limit our ability to capitalize on the unique fabric of our organization.
Observing this is vital in the wake of the COVID-19 crisis and the prevalent and devastating anti-Asian racism and hate crimes throughout the pandemic. It's past time to reckon with the history of anti-Asian xenophobia, racism and discrimination throughout the United States.
As a proud, diverse and inclusive organization, we resolve to ensure safety and respect for our Asian and Pacific Islander colleagues and communities touched by System Soft and highlight and emphasize their generations of contributions to the technology industry, as well as other major fields and professions.
We want to especially revere trailblazers within our local communities and industry and recognize Asian Americans and Pacific Islanders making a difference at System Soft. Join us as we celebrate APAHM and the impact those have made across our industry.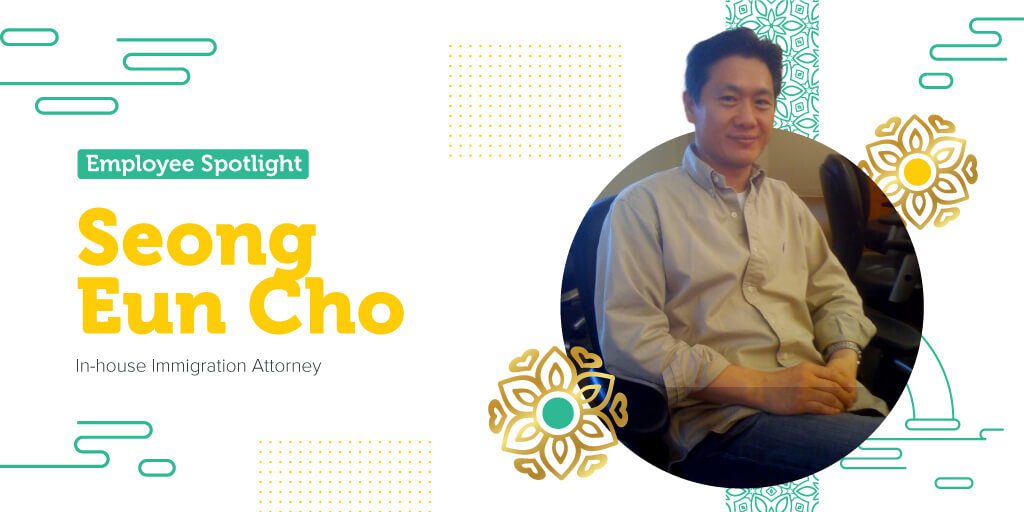 Seong Eun Cho
Our final spotlight shines on Seong Eun Cho, an in-house immigration attorney at System Soft. Seong's daily duties during the past two years require him to deliver prompt and accurate immigration services to System Soft and its employees, focusing on filing non-immigrant petitions and managing the green card process. His responsibilities also include researching and analyzing the law on immigration issues, identifying potential immigration issues, and developing strategies to address them.
Seong is originally from Korea, which sits in the center of East Asia. He shares that during 5,000 years of Korean history, its geographical location has made the country a place where international politics, the economy and cultural issues coexist. Korea, with its desirable location, will continue to create a new culture, influencing the world, says Seong.
Tell us something unique about your heritage.
Food delivery is like no other! In Korea, the delivery system is so timely, simple and well-organized. There is no hassle in ordering food (no extra tipping or delivery fees!).
From traditional Korean food, Pan Asian and Western, there is a huge collection of food options to choose from.
Food can be delivered anywhere at any time. If you are in the middle of a park, a local delivery worker will deliver to your exact location with no problem (even at 2AM!) Not only that, food can be delivered to you within just 10 minutes of ordering.
How fun and appealing is that!
What's a misconception about your heritage you would like to educate others about?
People might think that Koreans are only focused on education. Like some other Asian countries, Koreans are known for being overly focused on education. Many hold the stereotype that we are taught to be either doctors, lawyers or engineers.
Although we regard education in an extremely high context, it is not the only thing we focus on!
Much like the United States, we are interested in art and entertainment, as well. From Korean dramas on Netflix to Oscar-winning movies to delicious Korean food on local menus, and, obviously, the rise of K-pop (Korean pop music) and the Korean wave, South Korean pop culture has become a truly global phenomenon!
What does it mean to you that System Soft is celebrating APAHM?
I am very honored and appreciative that System Soft is celebrating APAHM. As a first-generation immigrant, a lot of my work and perspectives on life are reflected in my background and where I come from. Therefore, getting to know about other System Soft members' cultures is so wonderful and exciting.
I am grateful to be a part of a community that courageously supports diversity and inclusion. I am excited to learn more about others and build a better community at System Soft!
What's a fun fact about you—personal and/or professional—most people at System Soft don't know?
Due to my occupation as a lawyer, many people think that I am calm and collected in all aspects of my life. However, in my personal life, I love to make jokes and have fun, as well.