System Soft values its diverse and inclusive work environment. Join us as we honor the past, celebrate the present and are inspired by the endless achievements of Black Americans.
During February, the United States reveres Black History Month. Officially recognized in 1976, Black History Month has been an important time of acknowledgment every year since its inception.
This month celebrates the achievements of Black Americans in the past and present of our country, and their ongoing successes. It's a month for recognizing their central role in U.S. history and their cultural contributions to technology and entrepreneurship.
As a minority-owned business, System Soft is privileged to observe the month, while remembering this affirmation must go beyond just this one span of time.
To commend Black History Month and the enduring story of Black history and excellence, System Soft is highlighting some of its own employees.
In today's post, System Soft is spotlighting Byron Hutchinson, a senior account executive. Byron, who has been with System Soft since early 2022, has kindly answered seven questions about his career, life and heritage.
Here's more about Byron in his own words.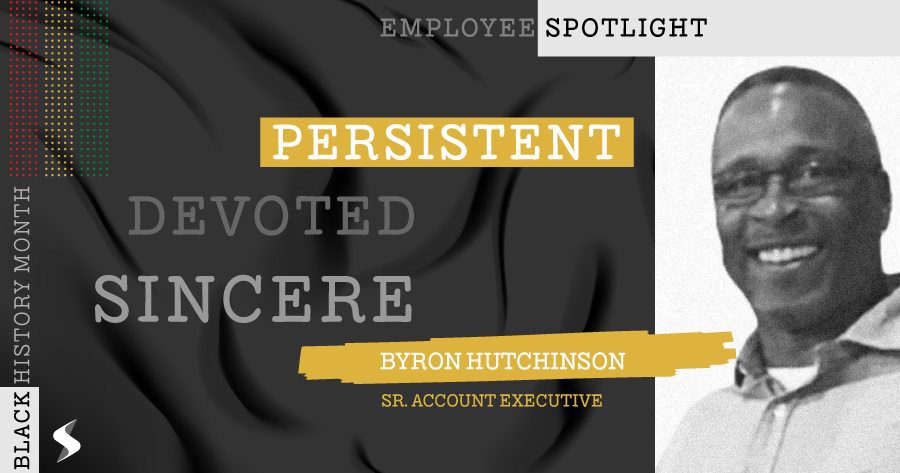 Meet Byron Hutchinson, Sr. Account Executive
What do you do at System Soft?
I'm a Senior Account Executive responsible for public and commercial sector solutions sales and consulting. My position entails solutions and services delivery in the areas of application development, intelligent and robotics automation, data and analytics, user interface and experience, and security.
What three words best describes you?
Persistent, devoted and sincere.
What does Black History Month mean to you?
Black History Month to me is a time to bring to the forefront the contributions, capabilities and influence Black people have had and continue to have in the world across all aspects of life. Whether it be science, math, technology, music, entertainment, agriculture, politics, business, sports or education.
It's important to enlighten those who are not aware of or refuse to recognize our contributions and our culture and the struggles endured for centuries to have equal rights and be treated as such.
What influential Black role models do you look up to, and why?
The influential Black role models I look up to are Martin Luther King Jr., Malcom X, James Baldwin, Jackie Robinson, Muddy Waters, B.B. King, James Brown, Muhammad Ali, and many others.
Muhammad Ali, I specifically look up to, because while he was able to excel in sports, he was also able to appeal to the masses outside of boxing. He had a quick mind and was very adept at speaking truth to power in ways that America was not yet ready to hear. He championed equal rights for Black people; he spoke out against the Vietnam War; he branded himself as an icon, and was very much an influencer to the world.
One of System Soft's core values is Diversity and Inclusion. Can you share an example of how System Soft embraces this value throughout the organization's mission and initiatives?
I started with System Soft in January 2022, but had been following them for a few months before joining and was impressed with the commitment to recognize holidays and birthdays by showcasing the diversity of their employees.
Acknowledging and celebrating MLK Day, contributing to charities that are important to their diverse workforce, celebrating Black History Month and communicating our core values and mission.
What moment in Black history influenced or shaped your career/life or one that resonates with you?
There are several moments in Black History that influenced and shaped my career and life, whether it was reading about the lack of opportunities for Black people in politics, sports, entertainment or the workplace, those moments motivated me and, in some cases, exist today.
They are fluid and a daily reminder of today's world and what I was taught growing up and what I have taught my children. Working hard and, in some cases, having to work twice as hard so that your capabilities are recognized. Knowing that every playing field is not equal and to come prepared and ready to compete.
If you could have a conversation with a civil rights activist, who would it be, and why?
If I could have a conversation with a civil rights activist, it would be Jackie Robinson. I'd like to thank him. The racism he endured in baseball, traveling across America, took considerable strength and perseverance knowing all odds and most people were against him.
For me, sports parallel daily life in several ways like being part of a team, competing, earning an opportunity, preparing and working hard, and having rules that apply or should apply to those participating.
Black History Month Journey on Social
Throughout the month, follow, interact and share this journey on System Soft's blog and social media. There, System Soft will highlight famous quotes, fun facts and inspiring individual stories, and showcase those among System Soft's team who make a difference.
See what's on System Soft's LinkedIn, Twitter, Instagram and Facebook.
On System Soft's blog, other employees will be spotlighted (Rhakeem Garner and Phoenix Wooldridge), as we stay committed to our mission and core values, appreciating the support and kindness we give each other.