The norm nowadays is consumers expect exceptional experiences. That outlook comes on the heels of business pacesetters like Amazon, Apple, Netflix and Zoom, along with other category leaders, building strong business models around customer experience best practices.
The outcomes of this digital effort are personalized interfaces across channels and devices—all bestowed with ease and speed.
As a business leader, you may not embrace this as a revenue-driver or key differentiator for your organization.
But think for a moment: How often have you decided to use an online service or buy from an online company, because of a seamless customer experience across physical and digital channels?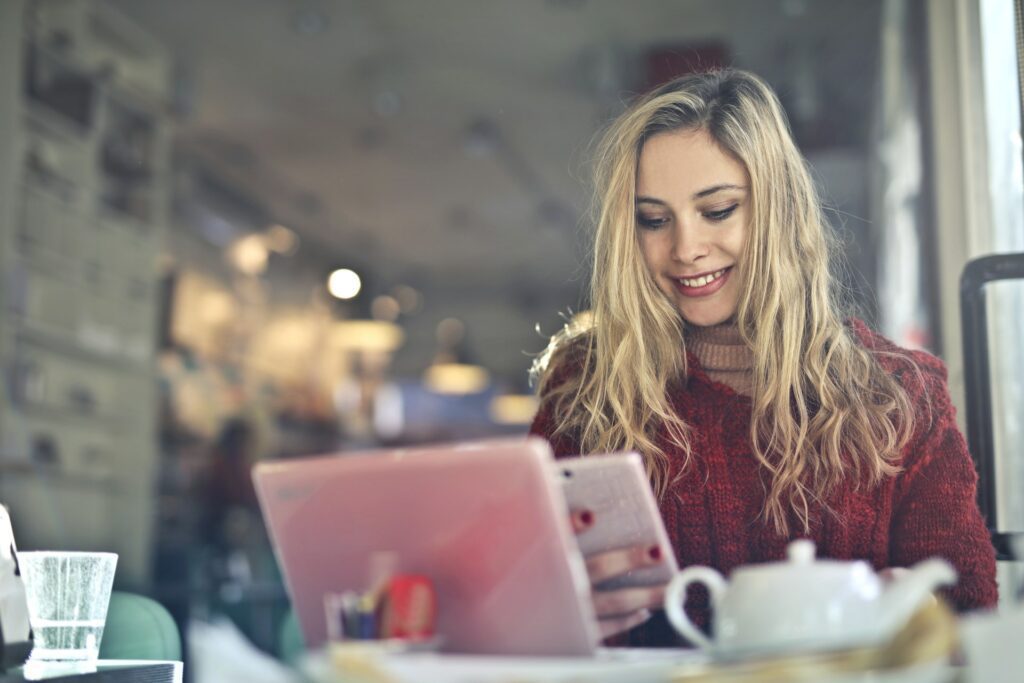 Dialing in Digital CX
Without doubt, positive experiences equate to positive perceptions of both product and company.
Not to mention, there's the reward of loyalty and word of mouth referrals. That's why organizations emphasize a robust digital customer experience.
Consider that companies implementing a digital customer experience report that they:
On average, are 60% more profitable than their competitors.
Have dedicated budgets for automating their customer experience to enhance customer insights.
Were three times more likely to achieve their goals in 2019. (Econsultancy)
Know 60% of loyalty is based on customer experience, not brand or price. (Gartner)
Understand two-thirds of consumers find a positive brand experience more influential in their buying decisions than great advertising. (PwC)
Make artificial intelligence a high priority, and 36% are already using it to improve the customer experience. (Econsultancy)
Are nine times likely to integrate data from multiple sources, analyze customer interactions across channels, and engage customers across channels to boost the customer experience. (Pointillist)
Invest in truly understanding consumers via customer data platforms and real-time decision engines. (Pega)
Here are two infographics that illustrate how consumers react to positive digital customer experiences.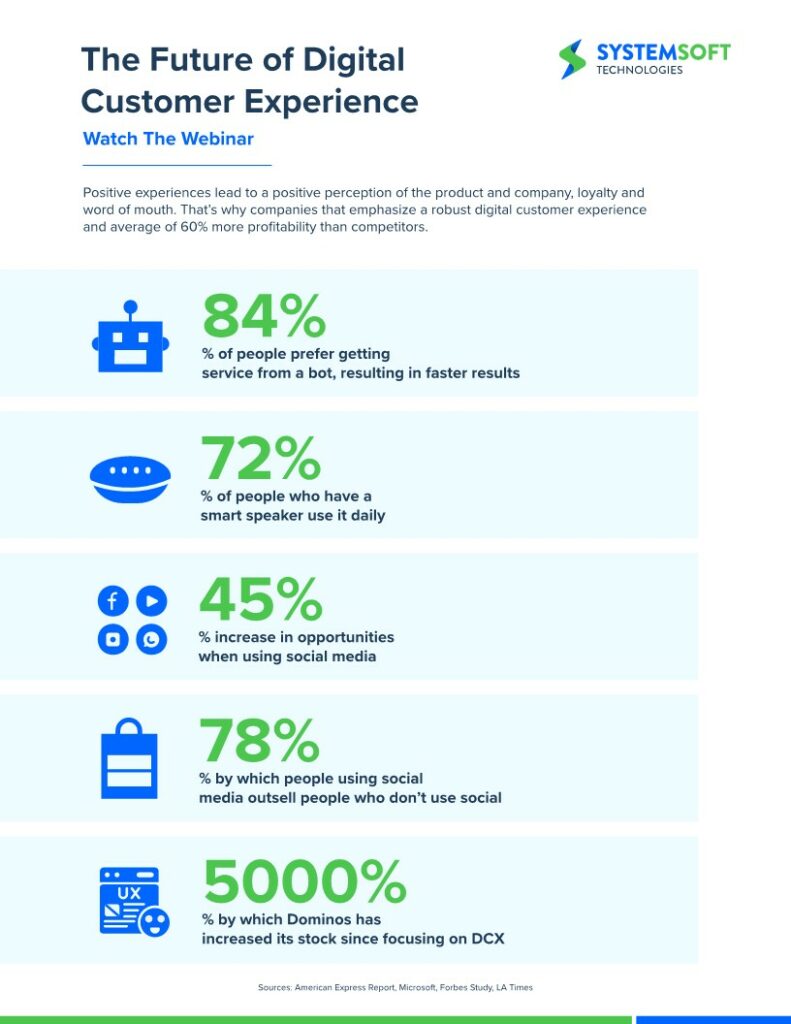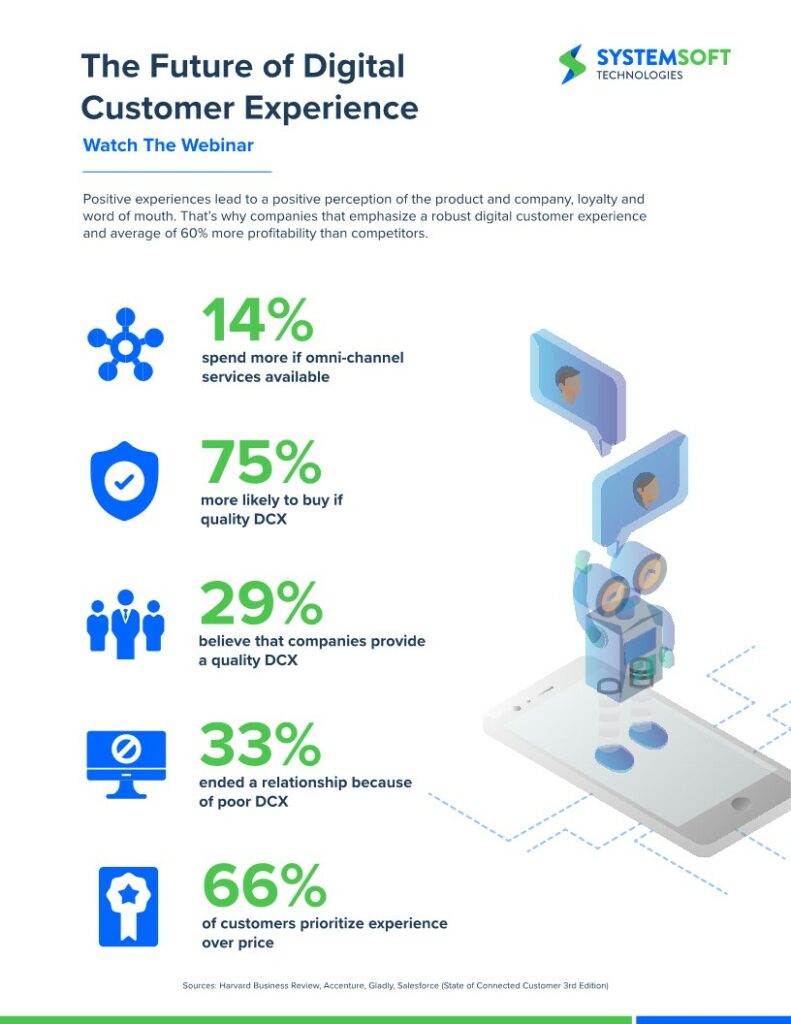 Conclusion
Now that you can see how a stellar digital customer experience is king among consumers and how a strong enablement of it can grow your organization, questions loom as to the means of getting you started.
For instance:
How do you budget for and measure the digital customer experience?
What are the right ways to prioritize and manage your company's digital customer experience efforts?
Which technologies should you stand up for a successful digital customer experience?
What are the current and future trends your organization's leadership must consider or implement?
System Soft Technologies (SSTech) can answer these questions and other related inquiries. Our deep expertise of the digital customer experience and digital transformation shine through with real-life examples and the sharing of best practices in our recent webinar: The Future of Digital Customer Experience.
[Watch webinar: The Future of Digital Customer Experience]
After watching the webinar, let us know how we can help your organization modernize your service delivery channels, following best practices, with minimal disruption and expert requirements aligned to meet your business needs.
About the Author: Stephen Moritz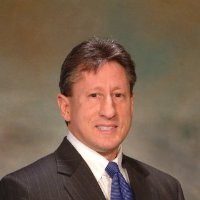 Stephen Moritz serves as the Chief Digital Officer at System Soft Technologies. Steve, an avid warrior of fitness and health, champions driving business transformation and growth through the implementation of innovative technology. He often shares his knowledge about Digital Marketing, Robotic Process Automation, Predictive Analytics, Machine Learning and Cloud-based Services.